Blister PVC Coin cards are trendy yet elegant and make for an excellent branding and marketing collateral. With Ekprint, you can customize these cards by adding your name, logo, quote, address, etc.
Choose from a variety of our innovative design templates or upload your own.
These cards are even available in different weights and other specifications. According to their weight, we offer cards in the following sizes:
0.500 mg = 17x17 mm
1 gm = 17x17 mm
2 gm = 20x20 mm
4 gm = 25x25 mm
5gm = 25x25 mm
8 gm = 29x29 mm
10 gm = 30.5x30.5 mm
Specification:
Material : PVC Blister Card with Self Adhesive
Printing : Multicolor
Card Size : 86 mm x 54 mm
Thickness : 400+400 Microns
Tamper Proof: (Optional feature) for the protection of card
Security print or pattern (as shown in pics) will be totally transferred to each blister card if card is attempted to open, hidden messages like seal open, null, void, security seal or any personal message will appear immediately. This irreversible modification provides evidence of tampering.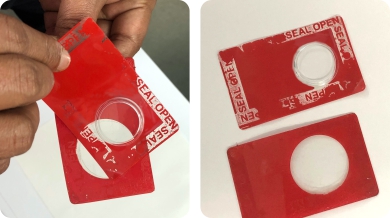 For any kind of assistance call : 011-47458822 or email : info@ekprint.in